If you want to know what the perfect relationship looks like, just have a load of Tomi and Tsuyoshi Seki from Akita, Japan Japanese couple who wears matching outfits every day.

With their affinity for stripes, gingham and plaid-patterned garments and an envious ability to co-ordinate their impeccable outfits, the style-savvy couple in their sixties is proving that age is just a number when it comes to killer fashion sense and social media prowess.
Tomi Seki and Tsuyoshi Seki from Akita, Japan have been married for 40 years, having met in Tokyo in their early 20s. Over the years, the adorable, gray-haired couple has assembled an impressive wardrobe filled with tailored pea coats, colourful skirts, collared shirts and endless button-up cardigans. And that's not all.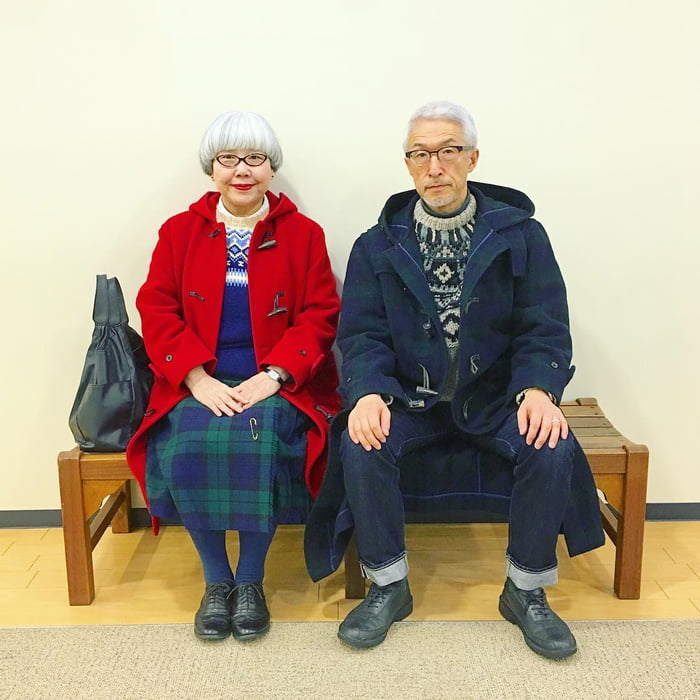 The chic pair also regularly co-ordinates their outfits so the patterns and colours match perfectly and they have a popular Instagram account to prove it.
If that isn't the definition of #relationshipgoals, what is?
Tomi told CTVNews.ca that she first created the Instagram account "bonpon511" in December, 2016. The handle is a combination of their children names and their wedding date: May 11, 1980. She explained that her daughter takes the photos of them posing, usually holding hands or arm-in-arm, in their harmonious outfits while they're on holiday. Using hashtags such as #whitehair, #silverhair and #over60 the couple appears to have no problem embracing their senior status.
In the short time since the couple began uploading photos of their matching ensembles to their Instagram account, they have already amassed an impressive following of more than 790,000 followers.
Tomi said she was surprised by how popular their photos have become. She said they receive comments and "likes" from users all over the world
"I am very happy," she said. "It's a lot of fun."
When it comes to choosing what to wear, Tomi said it's a team effort. Although no one seems to wear the proverbial "pants" in the relationship, so to speak, Tomi did reveal where she goes to find their trendy threads.
"I often buy clothes at UNIQLO," she said. "For brand clothes, I use Yahoo! Auction."
As for their future plans, Tomi said they will continue posting photos of their matching outfits on Instagram for their thousands of followers.
So what, I ask, is the secret to the couple's clear contentment?
"Respect," says Pon. "Respect for each other."